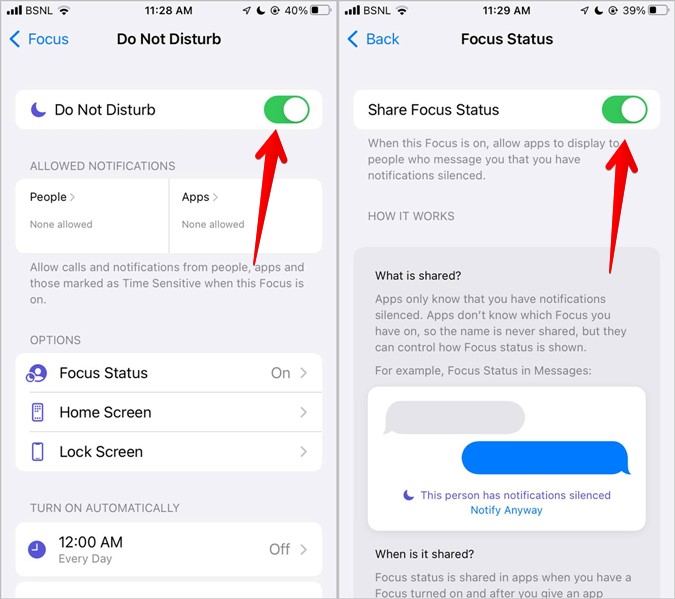 What is the Focus Status on iPhone?
The Focus status feature on iOS 15 lets you share a notification that lets others know you are in a Do Not Disturb mode. This can help people avoid interrupting your day or a specific activity, and it will also silence notifications on your device.
The Messages app is the only one that can share this with your contacts, but you can revoke its access by turning off the toggle for "Focus" in your iPhone's privacy settings.
Do Not Disturb
Do Not Disturb is a great way to avoid interruptions and stay focused on what matters. It silences calls, alerts, and notifications while your phone is locked (check out the Notification Center to see what you missed).
While Do Not Disturb mode is useful for those who want to focus on a task or take a break, it's also helpful when you need to stay in touch with friends or family members. The feature lets you set exceptions for specific contacts and allow calls from those contacts to bypass Do Not Disturb mode.
You can turn Do Not Disturb on and off in the Control Center, and you can schedule it to activate automatically at a certain time or location. It can even be turned on when you're in a certain app or at the end of a calendar event.
Apple offers a few different profiles for Do Not Disturb that let you tweak it to your exact preferences. Those include Personal, Work, Sleep, Driving, Fitness, and Gaming.
One of the most important things to remember about Do Not Disturb is that it allows you to ignore time-sensitive notifications like reminders and emails with references to date and time. This isn't always practical, but it does help ensure that you're not missing important information.
If you have a contact who you don't want to miss an important call or message, you can make an exception for them by adding their number to your Favorites list. You can then choose to receive calls from them whenever they're in your Favorites or ignore all calls from them.
There are other settings for Do Not Disturb, including a setting that lets you silence the volume of your device while it's on lock. However, there are a few issues with this feature that some users have reported.
Work
Apple's new Focus mode is a great tool for managing notifications on your iPhone. It allows you to use a slew of preset modes and create your own ones that fit specific needs, from working to sleeping or driving.
Do Not Disturb, Sleep, Personal and Work are all preset modes available in iOS 15. Each one can be configured to activate automatically at a set time or location.
For example, if you're in the middle of a job interview, you can select Work as your Focus and turn off all notifications to help you focus on your tasks. This will ensure that you don't get distracted by notifications from other apps and people, while also allowing you to reply to messages with urgent replies when necessary.
You can even set up a page in the Home Screen to only show apps that are relevant to your current Focus. If you're focusing on getting your work done, iPhone will suggest pages with apps and widgets that can help.
Another important Focus mode feature is the ability to share your Focus status with other contacts. This lets your friends and family know that you are focused on a particular task, so they won't contact you during your Focus time.
To turn on this feature, tap Settings > Focus and then turn on the 'Share across devices' toggle. It should then display a banner message that informs your contacts you're busy with a certain task and won't be able to respond to their messages during that period.
It's a great feature for people who regularly use different Focus modes and want to let their contacts know they are in the middle of a task. You can also disable it for individual Focus modes, which is perfect if you don't want to share your Focus Status with every person on your list.
Sleep
You can now use Apple's Health app (iOS only) to track your sleep in a way that's much more intuitive than in the past. You can check how much you've slept, set your bedtime and wake up schedules, add alarms, and enable other Sleep-related features like Sleep Screen or Wind Down Shortcuts.
The first step is to open the Health app, then tap Browse at the bottom-right corner and select Sleep. In the next screen, you'll be prompted to set your sleep goals and bedtime.
Depending on how long you want to sleep, you can choose a Bedtime and Wake Up time for different days of the week. Also, you can set a Wind Down time before your iPhone automatically enters Sleep Mode at the start of the night.
Once you've done that, you can add your sleep schedule to your Lock Screen. It dims down your lock screen and prevents notifications from popping up on it at the end of your chosen bedtime. You can also choose to add shortcuts to apps and relaxing activities that you can access on your Lock Screen while in Sleep Mode.
In addition, the Health app will track your sleep and let you know when you've met or exceeded your goals. This can be a great way to improve your sleep routine and make it more effective.
You can also use the Health app to set up and disable Sleep Screen, which dims your lock screen at bedtime and reduces distractions before you go to sleep. This is especially helpful if you're prone to being distracted by emails, texts, or other notifications during your nighttime hours.
Fitness
The Fitness focus status on iphone is a great way to quiet your mind and concentrate on your workouts without distraction. It's especially useful for those who have trouble concentrating on their workouts and find that their phone calls, texts, or notifications distract them from getting the most out of their session.
The app tracks your daily activity, including active calories, exercise minutes, stand hours, walking distance, cardio fitness, and more. It also shows daily trend data for a variety of metrics, which shows how you've changed over time.
Users can compare their fitness level to other people based on age and sex. If their average is in a low range, they receive a notification on Apple Watch and advice to improve it over time.
They can also track their health and fitness goals, see trends for a variety of metrics, and get coaching to help them turn a trend around.
For example, if a Trend arrow points up, you're maintaining or improving your fitness levels. On the other hand, if an arrow points down, it means your 90 day average for a particular metric has started to decline.
This information is displayed in the Health app on iPhone, which can be accessed from Settings – > General – > Accessibility – > Health. You can also view a number of other health and fitness metrics from Health in one place, such as heart rate, steps, and amount of sleep.
Another helpful feature is Fitness sharing, which allows you to share your daily activity with friends via the Health app on their Apple Watch. When you share your daily activity, you and your friend receive notifications about their progress when they close all three rings, finish a workout, or earn achievements. You can also challenge your friends to a seven-day competition directly from the notification.
Meditation
Meditation is one of the most popular ways to practice mindfulness, and it's a great way to reduce stress. But, even though it's a proven method to improve your mood and health, there isn't much research on its long-term effects.
It also can be difficult to get started, especially if you're new to it. It's easy to get caught up in a flood of thoughts and feelings, which can be frustrating. But, if you can stick with it and meditate regularly, you can find that your life becomes a lot easier.
The best way to start is to create a plan for your own practice. You can do this by signing up for a free trial of Headspace. It's a meditation app that offers hundreds of guided sessions for every level of experience. You can choose short, 3-minute mindful meditations to fit into your busy schedule, or longer practices to hone your skill.
Another option is to use a not-for-profit meditation app like Smiling Mind. It's a popular app on the App Store that is designed specifically for people who live busy lives. Its meditations are organized into programs such as Mindful Foundations, Digital Detox, Sleep, and Stress Management, and are organized into bite-sized sessions that are between two and five minutes in length.
The app offers an option to share your Focus status with contacts who are trying to reach you during your Focus routines, as well as a streamlined process for selecting your options. You can also silence notifications from certain apps and people, link your Focus mode to lock screens and watchfaces, and more.